MSSA 19TH Annual General Meeting, Conference And Exhibition: 'JOIN THE RUSH - KNOWLEDGE IS GOLD'
Arriving at the airport at Bayan Lepas, Pulau Pinang at approximately nine in the morning, Amy and Scott of Soniclean caught a taxi to Komtar to make final preparations for the conference, before leaving to Bayview Beach Resort (conference venue).


Scott and Amy, MSSA Conference 2014, Batu Ferringhi, Pulau Pinang.
The first morning started with a little under total capacity attendance and two sessions on guidelines and training for reprocessing of medical devices by Austrian speakers Dr Viola Buchrieser and Dr Tillo Miorini, followed by the opening ceremony and a light brunch in the hotel. After having a wander through the main exhibitor area, they found the ballroom hall and thoroughfare for conversation and light refreshments, capturing a few snapshots along the way, before taking lunch and attending the sessions "Validation of the Cleaning Process," Mr Martin Williams (United Kingdom), and "Environmental Monitoring and Responsibilities," Dr Zubaidah binti Wahab (Malaysia).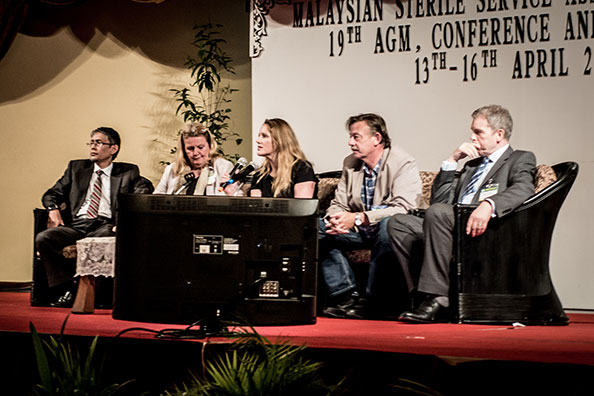 Invited speakers, Q and A session.
The following day, a steady stream of presentations and discussion continued with "Testing, Validation - Crash, Breakdown and Bad Luck," Dr Tillo Miorini (Austria), "Best Practices to Assure Optimum Results in Cleaning and Sterilzation," Ms Cindy Graham, (United Kingdom), "The Efficacy of Different Cleaners for Washers Disinfectors," Dr Viola Buchrieser (Austria) and "Humid Packages, Hidden Problems," Mr Martin Williams (United Kingdom), followed by "Research in Sterilization," Dr Roslan Johari bin Dato' Mhd Ghazali (Malaysia), while the afternoon consisted of presentations on current and latest technologies. The evening kicked off with a themed dinner, "BOLLYWOOD HERE WE COME", providing the perfect opportunity for attendees to unwind and socialise with their colleagues and industry associates. Ordained "Bollywood King", was Soniclean's very own branding coordinator, Scott Wright, awarded by means of a fashion parade for the event's best-dressed.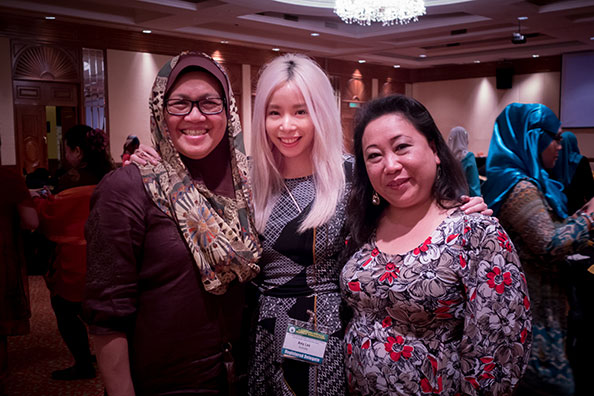 Sarima Rostani (Hospital Sibu, Sarawak), Amy Lee (Soniclean), Noora Elena Ibrahim (Hospital Sibu, Sarawak).
The final day concluded with three shorter sessions on sterilisation and CSSU best practices, before winding up with the closing ceremony and late brunch.
---