Modular Cleaning Systems (discontinued)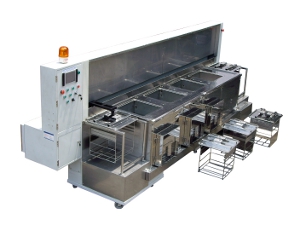 The environmentally sound ultrasonic cleaning system is designed to meet the demands of the metal finishing and general engineering industries. The system offers a fully proven alternative to existing solvent systems, provides improved cleaning and lower operating costs. The system is configured to have zero direct environmental impact.
The system is designed for use with a wide range of aqueous solutions selected to ensure maximum cleaning performance and compatible with both ferrous and non-ferrous materials. For cleaning of steel components which are prone to corrosion, inhibited detergents is specified with similar chemical treatment being utilised for water rinse stages. The ultrasonic cleaning process effectively cleans polishing and lapping compounds, cutting oils, grinding debris, machining swarf and similar oil based contaminants.
Please contact us with your questions and requirements and call to speak to one of our technicians or sales staff for further recommendations and the available customised options.
---
Product Brochure:
---