Ultrasonic Performance Meter UPM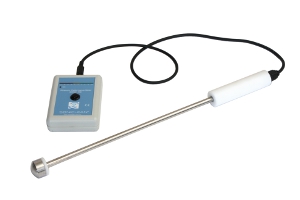 The UPM provides a fast, convenient and clean way to verify the operation of your Soniclean ultrasonic cleaner. It is an automated instrument for those requiring the security of their machine at optimal capacities. This instrument for testing, is an alternative to the original hand-held foil testing method. A positive result, is equivalent to an even dispersion of "pin-prick" holes (foil test) a revolutionary and visual way, to determine consistency and quality. This Ultrasonic Perfomance Meter UPM is for those who are serious about maintaining the quality of their product, and require the confidence and knowledge, that their machine is in flawless operation everyday.
Before proceeding with the test, turn the ultrasonic cleaner on for a few minutes to degas. Lower the UPM probe into the tank so the probe head is completely submerged. With the probe held still, press the central push button on the meter unit. Performance measurements will be made and displayed on the bar graph continuously until the button is released. Ideal cavitation is being achieved if the UPM indicates a reading between 5 and 10.
*As a result of continued product development, specifications are subject to change without notice.
---
Product Brochure:
---