PACSSM 2013 Conference - Philippines
In June 2013 - Susan Lee, spoke to approximately 300 medical industry attendees in the Philippines. This provided an excellent opportunity to communicate and outreach to new individuals and groups within the health market.
Susan's presentation can be viewed as a PDF here. (PDF, 857K)
The PACSSM (Philippine Association of Central Services and Sterilization Management) conference drew participants from all over the Philippines, such as Luzon and Visayas. The vast majority of such attendees, were licensed college-educated nursing staff that hold key positions, including head nurse, head of central supply and other similar roles. PACSSM adheres to the guidelines for disease control from CDC center in the US.
Currently, only 10-20% of the Philippine medical market utilize an Ultrasonic standard machine, and outdated manual cleaning practices are still widely prevalent. This is a wonderful opportunity for Soniclean to educate and promote the effectiveness for such vital cleaning processes. She also spoke at number of local hospitals and practices to gain insight into their needs and practices first-hand. Soniclean's current Philippine customers are very appreciative of their machines, and this is indeed encouraging.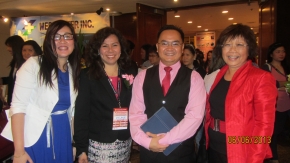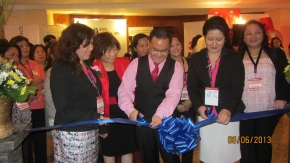 The exciting ribbon cutting ceremony!
Soniclean's current Phillipine distributor for the Medical market is:
Asya Medika, Inc.
Josette Enriquez
E: mjenriquez@asyamedika.com.ph / admin@asyamedika.com.ph
T: (632) 519-1373
Soniclean also has a Philippine distributor for the Electronic market, of which Susan gladly met up with on this trip as well:
JEM Quantum Edge Technologies
Mr. Edryan Lopez
E: edryan_lopez@jemquantum.com
T:+632-828-9969 /+632-973-7578
For more information about Susan Lee and her relevant experience and activities, please see her LinkedIn profile.
Information provided at the conference can be found in the following supporting documents and files:
Foil Test Validation 1
Foil Test Validation 2
---