HKTDC International ICT Expo, 13-16 April 2013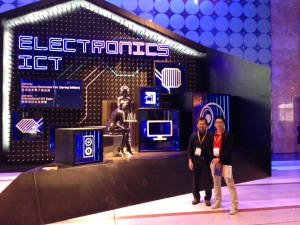 International ICT Expo 2013
A source for innovation.
"The HKTDC International ICT Expo is Asia's leading ICT show. This powerful platform for the smartest ideas in information and communications technology links product and service providers with buyers from around the world. A total of 590 exhibitors from 10 countries and regions took part in the 2012 event, including group representations from Australia, Canada, the Chinese mainland, India, Japan, Malaysia, New Zealand and Taiwan." For more information please see this link for the Hong Kong Trade Development Council International ICT Expo.
---
Jeffered Wong and Wahtong Lee, of Sonic Solutions and Soniclean respectively, attended the exciting exploration of innovative technology on display at the Hong Kong Convention Centre from 13-16 April 2013.
The purpose of their attendance was to create a catalyst of inspiration to develop Soniclean's product and software technologies, in alignment with fast moving and changing trends of the electronic and technology world.
The ideas move fast, the risks run high, but the rewards are vital to the production of the best possible technology solutions that Soniclean can provide to our customers, clients and business partners.
---